I need a new themes that is light weight and have great typography. That is when Press Box Theme for wordpress from creative synthesis come in handy.
I fall in love the instant i saw the design. It was the color combination and the typography that strike me the most, so i try and right now i'm customizing it. There are light setting, contrast and dark. I had enough with light setting, i want to try the dark setting on this website.
While changing themes i also add hittail code, i want to have a certain course for this site to develop, not just for entertainment.
Here is the screenshot of my last theme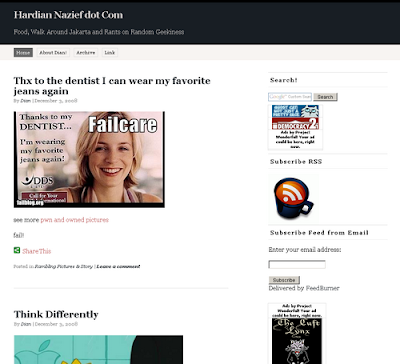 The themes that i use before is Thematic Framework from Ian Stewart, I love the simple color tone but i was kind of suck at customizing it. Well actually i like the custom change that i've made but my wife think it's too pale. Its really hard to leave Thematic because it had the best widget setting i've ever seen in my entire time using WordPress (For a free themes.). I dont need to change the core of the themes to add ads in single post, just add a widget in it. There are 3 widget position for single post, 2 position in sidebar, 3 for the footer and 3 for the index page. That is quite a selection. but i want to spice things up, change a little, so i use PressBox, here are the screenshot
The dark tone that i choose is just for a change of scenery and it more light in the eyes too. Hope this is going to be best themes i've ever use :D
Cheers!
u may also like this :