Last month i've gone to Ragunan zoo while on leave of work, The trip is fun, but i think the collection of animal is not as much as when i have a weekend at Taman Safari. I go there by busway, it's only cost us Rp.2,000 (around 30cent USD)for each person before 7 o'clock in the morning, after seven it cost Rp.3,500 (around 40cent USD)
Because i go there on holiday, the place is too crowded and what make me really sad the animal is fed with random kind of food by the visitor. They don't realize it's hurting the animal by doing that way. There's no security guard near the animal too.
The place is really huge, around 1.4 km². the entry ticket cost Rp.4,400 (around 50 cent USD). There are a couple of method of transportation available beside foot, one of them are bicycle and dokar. U can rent bicycle for Rp.15,000 an hour (less than $2 USD). We rented 2 tandem bike for about an hour. In case u didn't know what dokar is, dokar is a traditional method carriage wheel using horse as the puller. Look the pic bellow to see what i meant. The dokar cost Rp.10,000 for one trip only.
There's a children playground inside, but many from the original zoo provider looks like an abandon nuclear facility :P There are others like balloon park or small theme park inside, each will cost around Rp.10.000.
here's one example that looks really old
Here's a classic one rail coaster on the theme park. This thing remind me the days when i played Rollercoaster Tycoon when it first came out on pc.
all in all this trip is a very pleasant experience, i just wish i go there on workdays, so the place not too crowded
ps: dont forgot to bring food and beverages, beside the price, there's not much choice of food.
Update:
one girrafe no more :P
Frankly there's a lot elephant in there, around 10-12 if i'm not mistaken, u can ride too, but i see only kids riding those
in the deers cage, it's too far to get a clear shot of it, but i get one pic that comes near us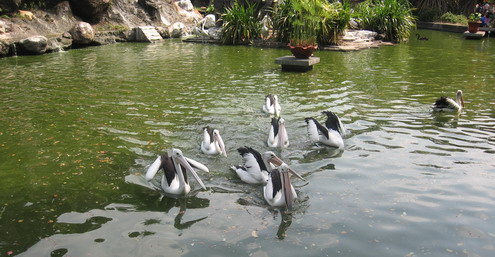 A flock of pelicans are in the small pond near the entrance, the pond itself have a lot of fish, so we can see the pelicans eating.
This is the only clear shot of Komodo, its on the slope that's why it look like in a strange angle. FYI, komodo eat cadaver, they have a poison on their saliva. So if they hunt, they only purpose to bit the victim, wait for it to die and rot (around a day).
u may also like this :