by .little.princess.
Been busy this couple of weeks due to my personal project. So i haven't have the time to write a post, but many interesting things that i found during this a couple of weeks. The most interesting things is i remembered that i promised my friends to help her develop a site for her organization last december.
Seeing that it's been to long delayed, I contact her that i'll do it immediately postponing my personal project for two weeks. In theory if we routinely communicate at each other two weeks it's a bit too long, but in reality it's quite short. There are a couple of problem that we've stumbled, and i know that two weeks is too short for her demand, but seeing that she had limited budget i can't help her too long. At the start of the project I immediately ask a couple question regarding her wants on the website, i figured out that she want a magazine type of site.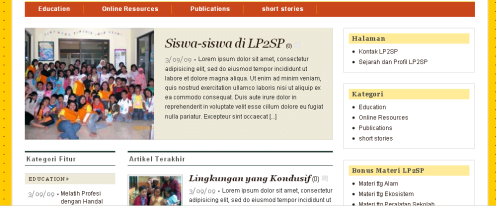 With the limited resources and time, in two days i use and customized Mimbo 3.0 theme from Darren Hoyt,and the result is perfect. The font that i use in the title is change, using big italic Georgia font for the h2 and the other things i change is the color themes to yellow. Right now i'm still waiting for her reply regarding the content.

The other things that is interesting is i found Smush it!! This site is very awesome for optimizing pictures for web. A quote from the site
Performance just got a little bit easier. Optimizing images by hand is time consuming and painful. Smush it does it for you.
The result of using it is fantastic, on some occasion it's better than using the "Save for webs" feature on adobe photoshop.

Other things that i've found interesting while exploring fonts, i found fontsquirrel which different from dafont.com, where comes with a variety of license, with fontsquirrel the font comes with commercial-use license.
There are also many interesting things i found regarding understanding web development like PatternTap and many articles from smashing magz. but i guess it's time to get back to work.
u may also like this :